This page provides details of our full management packages and a guide to our charges: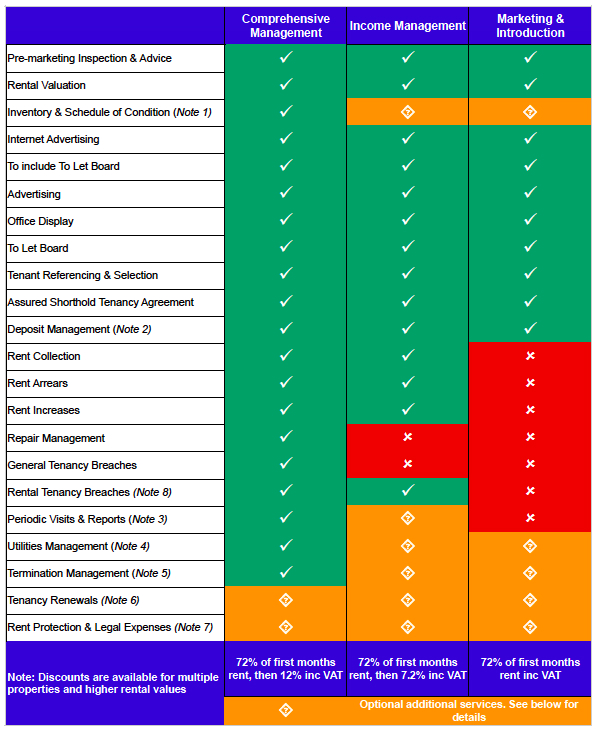 Note 1. Inventory & Schedule of Condition
Included as part of our Comprehensive Management service this is an essential element of a successful tenancy. Furnished properties present a particular challenge and for this reason our service only includes unfurnished lets. We will complete furnished inventories on request and our charge will reflect the size of the property and the complexity of the inventory. We're always happy to discuss your needs.
Note 2. Deposit Management
We recommend that a deposit equal to one month's rent plus £100 is taken at the outset of the tenancy. A larger deposit can be requested in certain circumstances, for example where certain pets are to reside at the property. All tenant deposits are administered through the Deposit Protection Scheme, details of which can be found at www.depositprotection.com/public
Note 3. Periodic Visits & Reports
Regular visits are made to ensure that the property is being maintained and there are no indications of abuse or unauthorised alterations. This service is included as part of our Comprehensive Management package but we make it available as an option with Income Management. A written report is provided with action points highlighted.
Note 4. Utilities Management
The often complicated process of advising utilities companies (Gas, Electricity) and Local Authority of a change of occupation and thus responsibility for bills! The service includes meter readings as well as providing forwarding addresses and dealing with any queries that may arise. This option is only available when done in conjunction with an inventory and schedule of condition.
Note 5. Termination Management
At the end of a tenancy we will oversee the handover of the property back to the landlord. This process includes checking the original Inventory and Condition Report and highlighting any problems which may need addressing by the tenants or by means of deduction from their deposit. This service also incorporates Utilities Management but is only available if we undertook the original Inventory and Condition Report at the start of the tenancy.
Note 6. Tenancy Renewals
When the initial six month term has expired you may choose to renew the tenancy agreement for a further fixed term. The benefit of this is that the tenancy is secured for a further fixed period. The cost of the new agreement is £90 inc VAT, this will usually be shared equally between you and your tenant. As part of our Comprehensive Management service we will approach the tenants before the end of the initial fixed term to ask if they would like to renew for a further fixed term.
Note 7. Rent Protection
A Rent Protection policy can be taken through our referencing company, and will provide protection against unpaid rent. Please ask us for further details including the premiums involved.
Note 8. Rental Tenancy Breaches
As part of the Income Managed service, we can pursue outstanding rent and should the need arise, serve the relevant notices to your tenant for possession. Rental tenancy breaches can be a stressful time and we are happy to offer guidance on the legal process to obtain possession. We would always recommend that you seek legal advice in this instance.
| | |
| --- | --- |
| Optional Fees | |
| Inventory & Schedule of Condition (unfurnished 1 and 2 bed properties) | £114 inc VAT (see Note 1) |
| | |
| Inventory & Schedule of Condition (furnished properties) | £222 inc VAT (see Note 1) |
| | |
| Periodic Visit & Report | £66 inc VAT per visit (see Note 3) |
| | |
| Tenancy Renewals | £99 inc VAT split between Landlord and Tenant |
| | |
| Termination, Deposit Dispute Management and Utilities Management | £42 inc VAT per hour (see Note 5) |
| | |
| Legal Expenses | Please ask for details |